Guerrilla Marketing - The 7 Best Campaigns Ever
Guerrilla Marketing, as the examples below demonstrate, has been misappropriated by the big brands over the last few years. However, the origins of guerrilla marketing are rooted in small, independent businesses that couldn't afford traditional advertising space. At Marketing Renegade, we believe it's time for independent businesses to take the streets back, here's some inspiration to get you thinking…
Guerrilla Marketing Definition;
A way for businesses to promote their products or services in an unconventional way with little budget. The main point of guerrilla marketing is that the activities are done exclusively on the streets or other public places, such as shopping centres, parks or beaches to attract a bigger audience.
Break Me if You Can - 3M Security Glass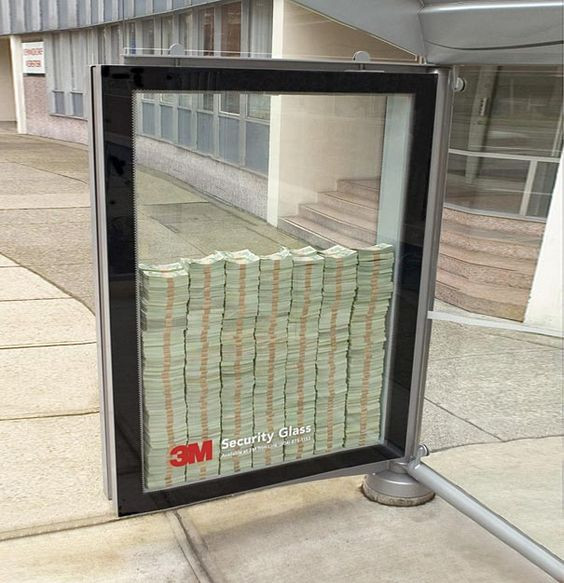 The 3M Security Glass guerrilla marketing campaign is legendary. $3million is encased in 3M's 'bulletproof' glass, and passer-bys were asked by a uniformed security guard if they would like to attempt to break the glass (using their feet only). If any individual were successful in their attempt, they get to keep the $3million – sounds fair. Only all the money was fake apart from $500 dollars on the top layer. The glass is not bulletproof but definitely kick proof. And only a handful of people got to try their luck. That didn't, however, stop this image being shared millions of times around the world.
Free Snowman - Ikea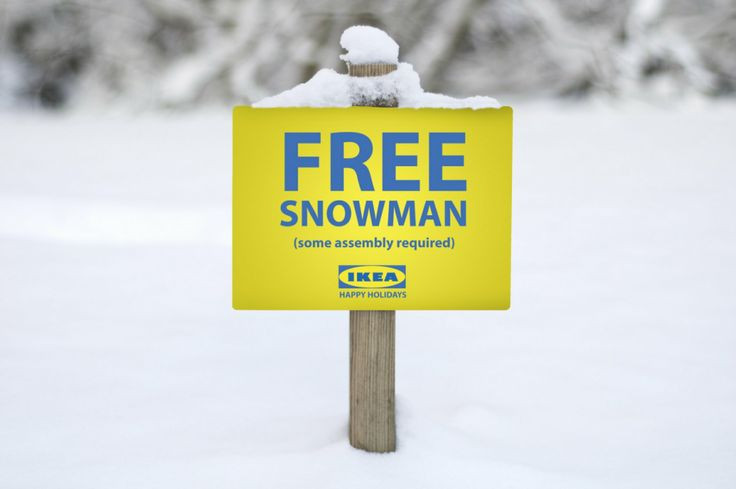 This Ikea guerrilla marketing campaign pokes gentle fun at the flatpack nature of their own products. It successfully gives Ikea a gentle humility and a clever sense of humour. The concept was warmly received and shared like, a bazillion times. Here's the rub though, this brilliantly simple idea was not even by Ikea. The concept was created by freelancer Steve Lownes and was featured by the Chip Shop Awards in the Best Outdoor Ad category. Of course, the internet doesn't care, and Ikea is usually given all the credit.
Get Off Your Ass & Run - Nike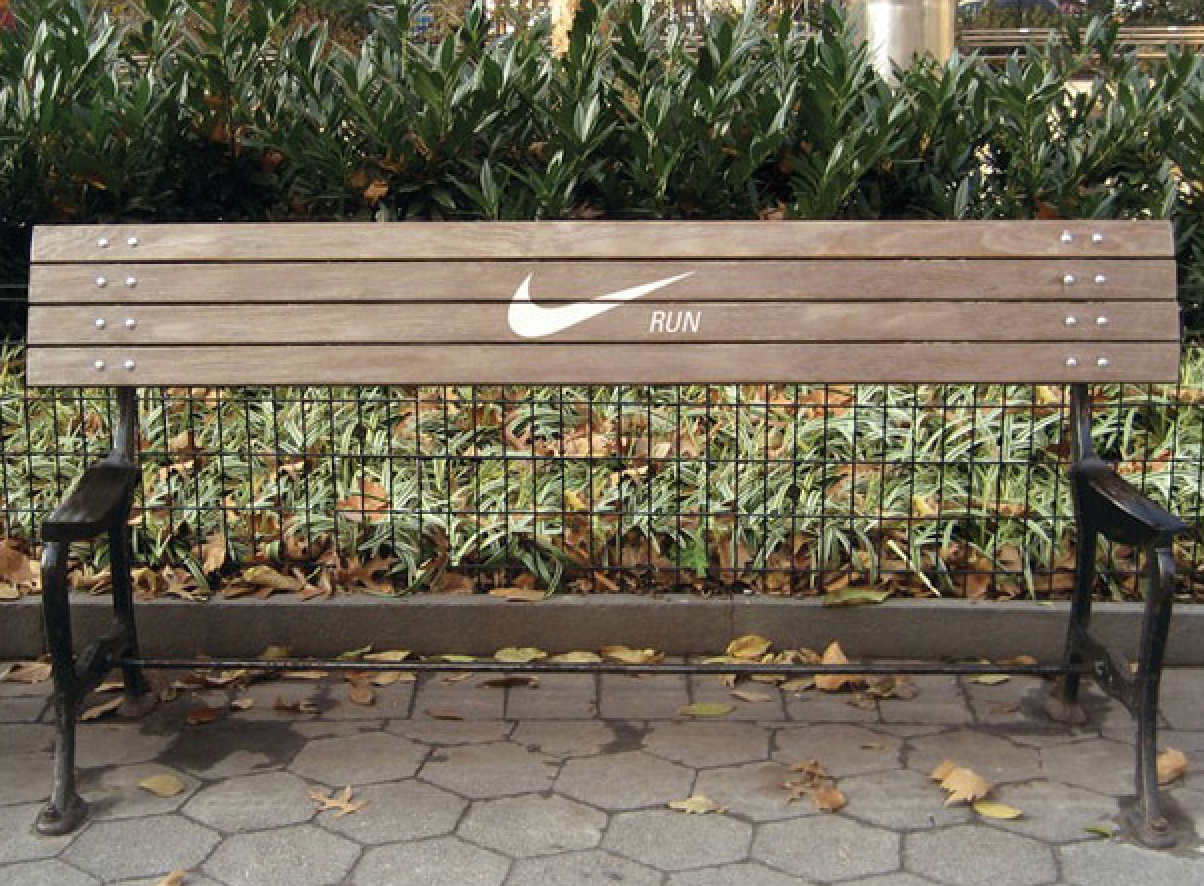 This execution from Nike encapsulates the essence of guerrilla marketing. It's cheap, it's clever and it is bang on message for the brand. Hats off to Creative Director Annie Chiu, for dreaming up such an inspirational piece of work. As is the case with all truly great guerrilla marketing campaigns, the number of people that see the idea for real pales in comparison to the millions that have seen it online.
Polo Snow Stamp - Polos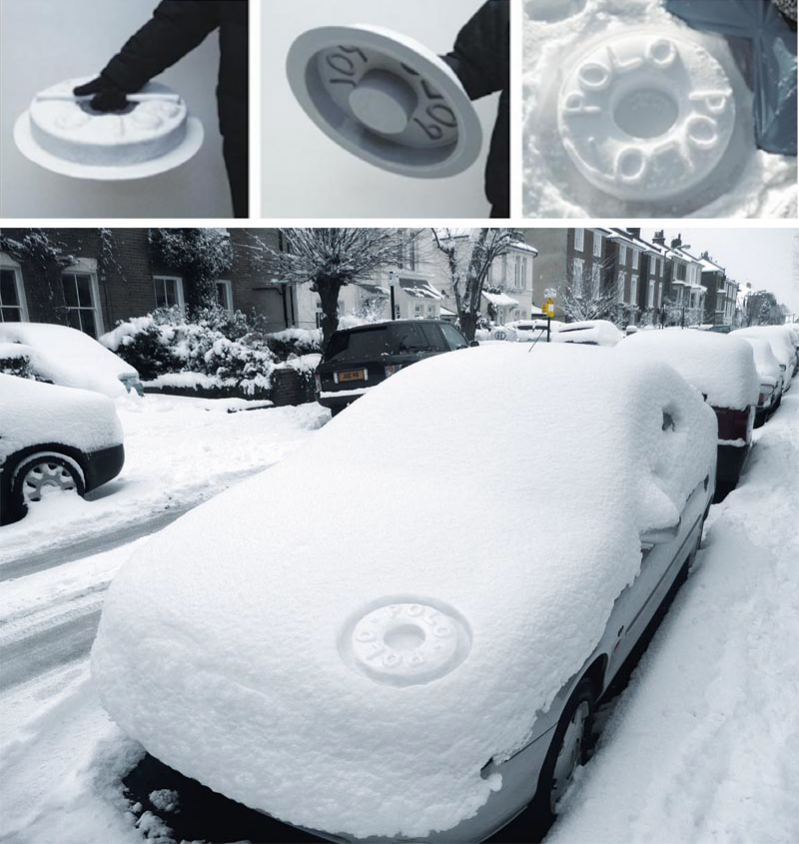 What could be cooler and fresher than a blanket of snow? A polo mint made of snow. This super clever, yet refreshingly simple execution resulted in snow-made polos appearing on pavements, cars and park benches all over London. The concept has taken the internet by storm ever since it was dreamt up by JWT's Executive Creative Director Russell Ramsey.
Sharp Exit - Lynx Axe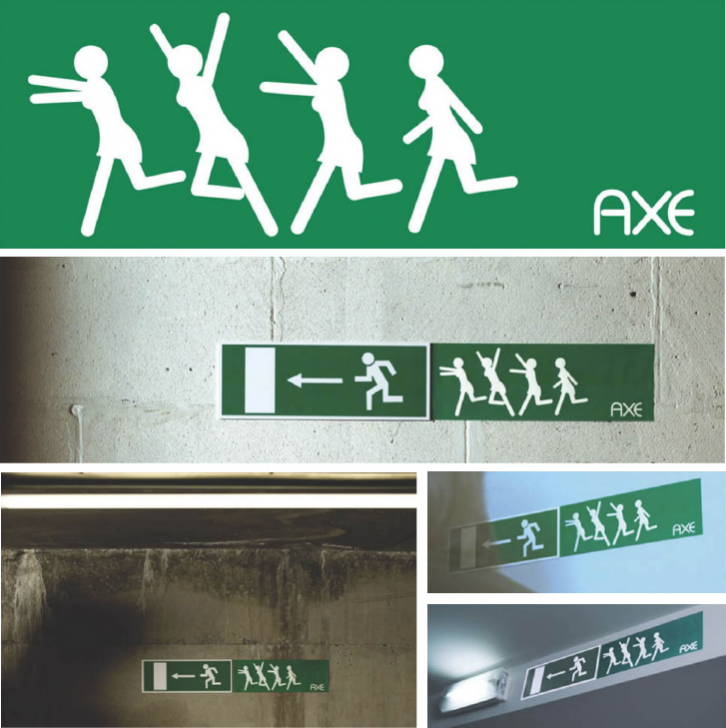 In case you're not a teenage boy, Lynx Axe is a deodorant that has been sold for years on the promise that it will make you irresistible to women. How effective the product is in achieving that aim is questionable, however, the effectiveness and downright cleverness of this guerrilla marketing campaign is not. Creative Director Véronique Hermans takes all the plaudits for being as sharp as an, erm, axe.
Dirty Water Vending Machine - Unicef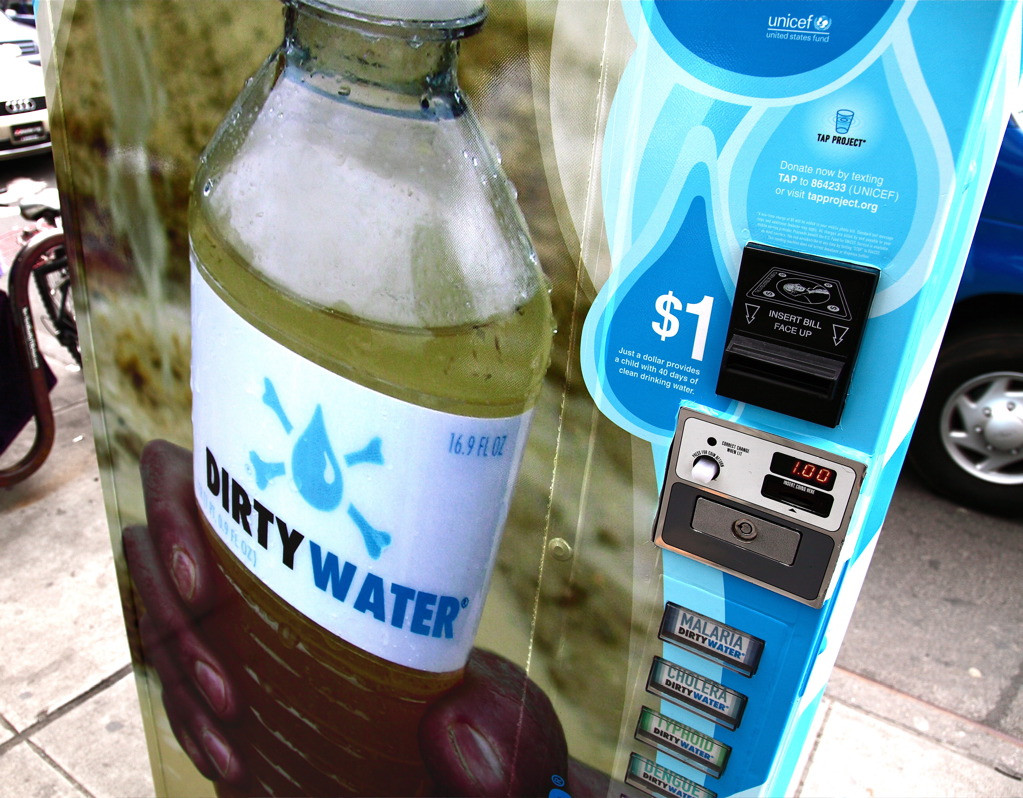 UNICEF estimates that 2 billion people lack access to clean water and that over 4000 children die every single day because of a water-borne disease. To raise awareness about the issue and to raise money, UNICEF installed this vending machine in Manhattan's Union Square. The vending machine not only offered bottles of dirty water labelled as typhoid, cholera, dysentery, and dengue to really drive the message home, but it also took $1 donations, explaining that this tiny sum would provide clean water for a child for 40 days. This guerrilla marketing campaign, although the most sombre, is actually the best of the bunch as it achieves two goals (raising awareness and the collection of donations) in one masterful stroke. Top marks.
Short Shorts Leg Stamps - Superette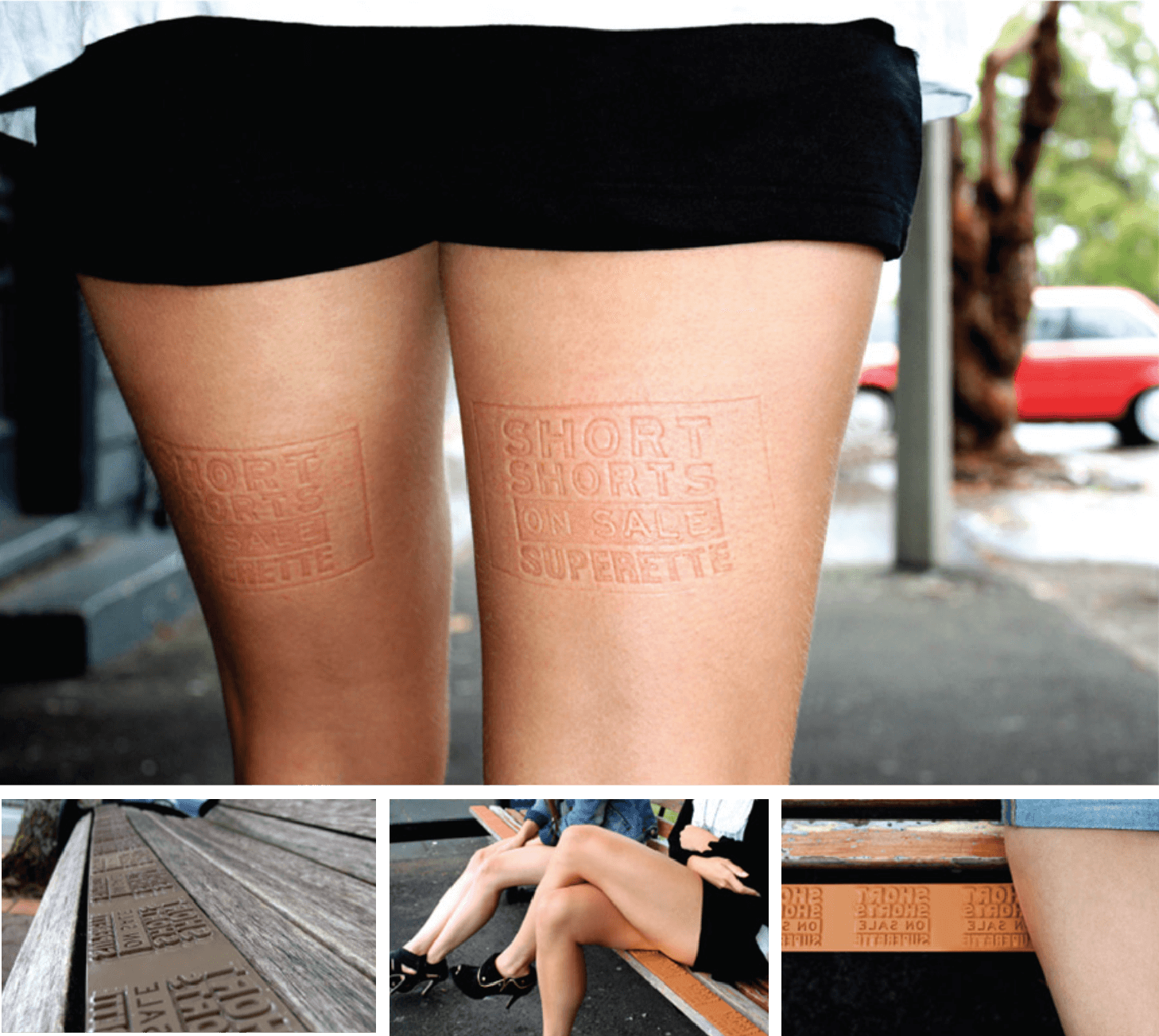 Fashion chain Superette, with the help of agency DDB New Zealand, decided to take advantage of the fact that shorts are getting shorter, for men and women. By fitting indented plates to inner-city bus stops and benches in and around the fashion district, not only did Superette have branded seating all over the city, but when someone sat down, the advertising message was imprinted on their thighs, creating thousands of walking billboards, each one lasting up to an hour. (It's worth mentioning that the execution of this campaign was in Auckland, New Zealand so the locals wear shorts much of the time.)
What jumps out on all of these guerrilla marketing campaigns is that although they are all executed by big name brands, they are all achievable for even the smallest businesses. There's nothing particularly expensive about any of them, they are simply good ideas that make people stop and stare. What kind of guerrilla marketing campaign would get your business noticed? Get your thinking cap on and go and reclaim the streets.